Casio was dumped at a rural Georgia pound with a shattered leg. Many animal control facilities do not have the funding to provide medical care for sick or injured pets that are impounded or surrendered by their owners. Often, these sick or injured pets are euthanized or tossed in a cage, slated for the next euthanization date, never to be seen by potential adopters.


Once in a while, however, one of these unfortunate pets has an angel that intervenes on its behalf. Such was the case with Casio. Winging Cat Rescue swooped in to save his life.

Casio was rushed to the vet, and his shattered leg was amputated.

Within a short time, Casio was looking much better. He was a real sweet-heart during his recovery.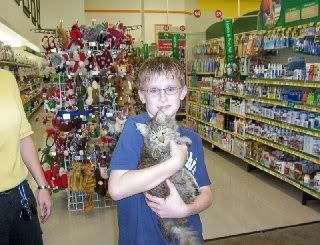 A couple weeks later, Casio was ready to find a new home. He got his Christmas wish! Casio was adopted!

This happy ending couldn't have happened without the wonderful people of Winging Cat Rescue. Please consider donating to Winging Cat Rescue so they can continue to rescue wonderful cats like Casio, who would otherwise never make it out of shelters alive.